Posted by:
Servants Heart SpiritHorse
http://www.servantsheartspirithorse.org/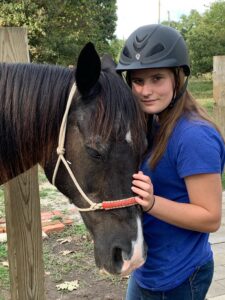 In the fall of 2020 Gracen started therapy with us at Servants Heart Spirit Horse. Her goal was to focus on gaining strength, mobility and help her cope with anxiety. Gracen came to us as a fighter, something she's had to be since birth, Gracen only weighed 1 pound 11 ounces when she was born at 28 weeks. She spent almost 3 months in the Newborn Intensive Care Unit and had a brain bleed (stroke) while there. This led to right sided weakness. Her right arm, hand, and leg do not recognize direction from her brain to function as her left side does.
Then at 8 months old she suffered seizures known as Infantile Spasms, often fatal or can leave children severely mentally challenged with a shortened life expectancy. Then no more seizures until when she was 8 and again she more seizures, Gracen overcame that episode as well and has been seizure free since.
We began exercises to balance her body and gain strength on her right side. She came every week, even though other therapies had not offered her much hope. She just wasn't ready to give up! After a couple of visits we started gaining traction and from then on were very careful what we asked because we realized that Gracen would work too hard and do just about anything we showed her.
In a matter of 11 weeks of therapy her balance and posture improved and on her sixteenth birthday ride when she rode small circles independently around all the cones we could find. She topped off the season with a short stretch of trotting in a straight line independently. This was only in her first 11 rides, she will be returning in April for our spring session and we can't wait to see what we can do next.
She is a happy and gracious young lady who enjoys good health and loves connecting with people and her beloved therapy horse, Storm.